Sgt. Sean "Sticks" Larkin of Live PD was a hit with viewers as a member of the Gang Unit of the Tulsa Police Department. Sticks answers our questions about how gangs took root and how to spot if your kid is involved.
Are gangs a growing problem all over the country?
Gangs that have hit through the central part of the U.S. in smaller cities like Tulsa began in the mid to late '80s when crack cocaine exploded. Criminal enterprises were moving their drug distribution business across the country. There would be gang members moving from L.A. to set up a drug distribution business in a smaller city. Then the locals thought, "Oh man, street gangs: kinda cool," so they manifested into what they are now. A big part of that has been the way the gangs are portrayed in music, TV, the movies. Some younger guys find that the lifestyle they want to be involved with so they jump right into it. Young adults that don't have good examples in front of them — whether that be parental figures or they are not involved in sports or activities like that — see these older gang members in their area. And, whether it's from social media or seeing it firsthand, they see things glamorized. The gang members are showing off their stuff, their guns and their cars. It's kind of like a 19-year-old college girl putting a selfie on her phone. She's not going to put forward how crappy different parts of her life are. That's the kind of thing these gangsters do.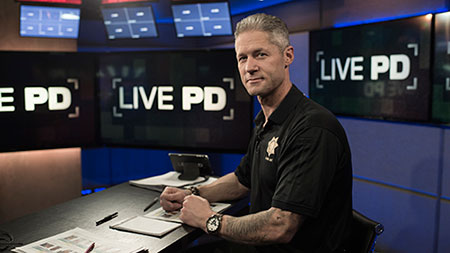 What are the signs that kids might be in a gang?
I'm a parent — I have two kids, one in college, one in high school — and you have to be nosy. You have to be involved in these kids' lives, looking in their phones, asking them what they're doing, who they're hanging out with. Be a pain in their ass, essentially. Things to look for could be something as simple as the lingo or terminology that they use. Certain gangs wear one color and refuse to wear other colors. Going through their phones is a huge thing because everybody is texting pix of themselves throwing gang signs. Pay attention to that type of stuff. They want people to know "I'm gang affiliated." Or "Look at this gun I have." Fifteen-year-old kids are posting pictures of themselves with guns on their Instagram or Snapchat. So it's out there.
How do the gangs get members to join?
[There are] a couple of different ways. We now see second and third generation families that are involved in street gangs. It's like if you grew up in a law enforcement family, your older brother was a cop, your dad was a cop, your Uncle Joe was a cop — you're expected to follow that path as well. We see that with gangs. These kids see their older brother, their father, their family members' boyfriends and they get caught up in that lifestyle and follow that path. Another way is the kids that grow up in a neighborhood that has a historic problem with street gangs. As they grow older, they get sucked up as well.
Is it hard for kids who aren't affiliated with gangs?
As long as I've been on the police force, certain neighborhoods had gang problems and, long after I leave, they'll have gang problems. But there are so many kids and families that live in those areas that never have contact with police, that never get in trouble. There are kids that go through high school and are just fine, go off to trade school or college or get a job after high school. It's choices that kids choose to make. Kids are going to be kids, they're going to make mistakes a time or two.
Are there any "new" gangs that we should be aware of?
In Tulsa we've got two factions of different white prison gangs that have historically been enemies in the prison. When they get out on the street, they haven't been fighting — but now they are. Probably the biggest thing that's changed is a lot of stuff is done on social media now — gun sales, drug sales, things like that.
Are tattoos are a big part of identifying gang members?
It's very normal for people to have tattoos now. If you've seen me, you know my left arm from my shoulder to my wrist is completely covered in tattoos. But gang tattoos haven't changed. Guys have tattoos on their necks and faces to show their gang affiliation. You are pretty much guaranteed never to have a decent job.
Do you see yourself staying in the gang unit?
I love working in the gang unit. It's my niche. I have turned down other assignments that have been offered because I really like the group of guys that I work with. And I love the chase. I'm 43 years old but I still like getting out and chasing an 18-year-old with a gun wearing a pair of gym shorts. It's fun. When you catch them you have to let them know how embarrassing it is that they were just caught by a 40-something-year-old guy wearing 75 pounds of gear. You've got to rub it in.
For more from Sticks about the Tulsa Gang Unit, listen to Episode 1 of the PD Stories podcast. For more information, visit the PD Stories page.
Related Features
The MS-13 Gang: Destroying a New York Village's Sense of Community