It's been five years since the shocking news broke that three Cleveland women—Michelle Knight, Amanda Berry and Georgina "Gina" DeJesus—had been freed after being held captive for between nine and 11 years by Ariel Castro, who regularly raped, beat and tortured them. For these women, and Berry's young daughter, who was born in captivity, the horror finally ended on May 6, 2013 when Berry was able to crack open a storm door, flag down a neighbor and ultimately escape.
Castro pleaded guilty to 937 counts, including kidnapping and murder (the forced termination of Knight's pregnancies); on August 1, 2013, he received life in prison without parole, plus 1,000 years. He committed suicide in prison a month later.
Knight, who was held captive the longest, now goes by the name Lily Rose Lee. She has spent the past five years trying to move past the horror of what she experienced at Castro's hands.
The following is an excerpt from her new book, "Life After Darkness: Finding Healing and Happiness After the Cleveland Kidnappings," copyright Michelle Knight, courtesy of Hachette Books. Here Knight describes how she was abducted, the abuse she experienced under Castro and what it was like during those first few minutes of freedom.
The captivity began in 2002. I was Michelle Knight then, a twenty-one-year-old single mother living in Cleveland, Ohio, and trying to regain custody of my son, Joey. I lost custody when I left Joey with my mother so I could go job hunting, and my mother's boyfriend lashed out at my two-year-old, fracturing his knee. Of course, the hospital called social services, social services investigated, and Joey was assigned to foster care, which meant they kept moving him from one home to another.
It was August, and there was going to be a court hearing at the end of the month when I was going to try to win Joey back. I was on my way to Joey's latest foster home to see him and meet with social services, and I was lost.
The address for the foster home was in a part of town I didn't know well, it was hot, and I was going to be late, which was the last thing I needed if I was going to get my son back. I saw a Family Dollar store up ahead, went inside, showed the address to a couple of the sales clerks, and asked if they could help, but nobody knew where the place was.
"I know exactly where it is," said a male voice, and I turned and saw Ariel Castro, the father of a girl I had gone to school with. I said hello and reminded him of our connection, and Castro offered to drive me to the house where Joey was living. Instead, of course, he drove me to his own house—surrounded by a locked fence, with dark windows, some of which looked like they were covered in dark plastic. He needed to get something, he said, unlocking the back door, and oh, he had some puppies I might want to see—maybe he could give me one for my son, so why didn't I come on inside with him, as it would only take a minute. The date was August 23, 2002. I was a prisoner in that house until May 6, 2013.
For eleven years, season after season, I was confined in that filthy house of horrors. Mostly, I was chained to one place, unable to move very far, if at all. Daily, Castro beat and sexually abused me. In 2003 Castro kidnapped Amanda Berry. In 2004 he kidnapped Gina DeJesus. The police looked for Amanda and Gina. Their families looked for them, worried about them, cried over them. My family figured I had run away or had simply left town—or maybe they didn't think anything at all, just that I wasn't around anymore. In any event, no one ever looked for me.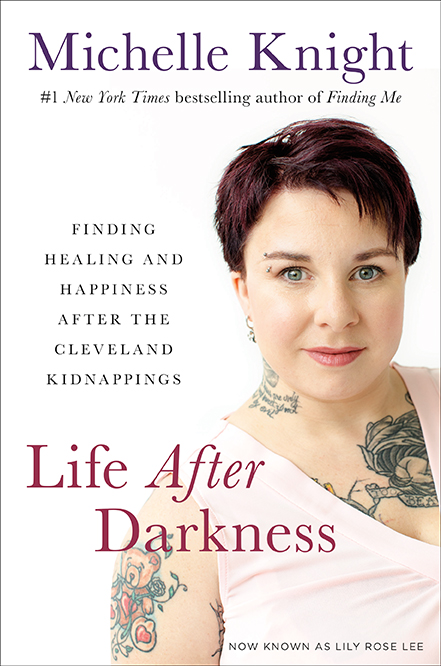 Of course, Amanda, Gina, and I forged a connection. We were all pawns in Castro's terrible game, sister sufferers in the little kingdom he ruled, his grotesque, insane kingdom of injury and hurt. But all of us knew that I was the one he tortured the most. I was the one who bore the brunt of his beatings: he slammed a barbell against my jaw and across the side of my head, and when I became pregnant—five times—he beat me, starved me, and one time actually hurled me down the stairs until I miscarried. So by the time I was thirty years old I had lost six babies: my Joey and the five fetuses Castro tortured out of me.
When Amanda became pregnant, Castro did not force her to miscarry. And when she went into labor, he made me act as midwife of the birth because I was the only one who knew anything at all about the process. The birth was rough, but it brought a beautiful child into our lives. She was a tiny affirmation of life in the midst of all the misery and squalor, and she was a reminder—which we desperately needed—that there really can be such a thing in the world as joy.
Many, many times during those eleven years I was afraid I was going to die. And many times I was in such despair that I was afraid I was not going to die. What kept me alive was my love for my son. Thinking about him, imagining him growing up, talking to him in my dreams, creating poems to him and about him in my mind and later writing the poems down on the scraps of paper Castro let me have: in the end I could put up with anything so long as I held to the hope that my son was all right, that he was being cared for somewhere by someone, and that I would one day see him again.
On May 6, 2013, all of us—me, Gina, Amanda, and Amanda's daughter, now six years old—were freed. A daring move by Amanda made our escape possible. She found a small opening in the outside storm door on the main floor of the house, big enough that she could extend her arm through it. Waving and shouting, she caught the attention of neighbors across the street. Amanda worked the bottom panel of the door loose, crawled through, and then pulled her daughter  through. Someone called 911, and a police car drove up to Castro's house, where Gina and I were still barricaded in our upstairs bedroom.
We had no idea that it was cops who were making the noise we heard downstairs. We did not know that Amanda was no longer in the house. We certainly did not know she had called for help. The neighborhood was a tough one. Drug crime was rampant. So when we heard sudden and unexplained movements downstairs, and someone yelled, "We're the police," we had no reason to believe it was true. I was so terrified that I fled into the next room and hid behind a cabinet. "Anybody in here?" a man's voice asked from behind the door. Then the door opened. The man and a woman entered. Blue uniforms, guns on their hips, silver badges.
I don't know—I don't think I will ever remember—if I let out a scream or made any sound at all, but my body propelled itself forward like a rocket onto the body of that poor woman police officer. I threw my arms around her neck. "Please don't let go of me," I begged, and I clung to her for dear life. Dear life was exactly what it was. Eleven grim and lonely years, filled with misery and pain, both mental and physical, and empty of anything that makes life worth living, had just ended. In a split second, life seemed possible again. When I finally let go of the police officer and made my way downstairs, I saw another police officer holding open the front door that Amanda had managed to break a hole in. I walked through the door and down the porch steps. I had never been on the porch; I had seen it eleven years before, when Ariel Castro pulled up to the house "to get something" before driving me to see my son. I never got to the appointment, had not seen my son in eleven years, and had lived through hell all that time. No wonder I fell to my knees as soon as my feet cleared the porch. I thanked God for my delivery, then climbed through the open back doors of the waiting ambulance.
Amanda and her daughter were there. "Are you okay, Juju?" Amanda's daughter asked me now, using her pet name for me. It was such a simple, innocent question. I nodded yes, I'm okay, and then I began to sob.
Amanda grabbed my hand. "We're free!" she cried. "We're free now! We're going home!" Then Gina climbed into the ambulance, and the three of us hugged and wept.
One of the ambulance guys took my temperature, then wrapped me in a blanket and asked my name. "Michelle Knight," I said. "Michelle, I'm going to set you up with some oxygen." He motioned for me to lie down, then put a mask over my face. But my face was so bruised and swollen—my entire jaw was black and blue all over—that the mask actually hurt. I breathed in and instantly felt woozy. Then I felt an injection in my arm—it was epinephrine—and I just let go. Whatever terror I was still holding onto from the morning flowed out of me as fast as the epi was shooting into me. For the first time in more than eleven years someone kind and caring was attending to me. The nightmare was over.
Related Features:
Tips on How to Escape If You're Being Held Hostage
How 'Live PD,' AMBER Alerts and Social Media Have Helped Find Missing Children
The Turpin Family Abuse Case and Others: Why Do Some Parents Torture Their Children