We asked courtroom artist and fine-art painter Jane Rosenberg what it's like to have a front row seat at some of the biggest trials of our time, why she never travels without a razor (but never in court), and what she expects at the upcoming Bill Cosby trial.
True Crime: How long have you been working as a courtroom artist? And what are some of the trials you've sketched?
Rosenberg: I've been doing this for 37 years. I've worked the Boston Marathon bombing, Bernie Madoff, John Gotti, Woody Allen, El Chapo, the Sean Bell killing, Brooke Astor's son, and lots more.
RC: How do you think courtroom sketches stack up against photos?
Rosenberg: I believe art tells more of a story than a photo. A piece of art shows more emotion; I think an artist's sketch can do certain things that photos can't. However, news directors seem not to agree and increasingly just want the photo.
RC: Is it important for you to depict someone's mood in your sketch?                      
Rosenberg: It's not as much about capturing a mood. I give my impression — this is what this person is doing at this moment of this day. I don't pick any sketches; I give art directors everything I've done with no editing from me — that's back in the newsroom. I draw as many sketches as I can of various poses in a certain day. It depends on the time I have. In the recent Anthony Weiner case, I made three starts — one when he first came in, with his hands in praying position. Then he stood up and was sworn in. I'll get just the outlines of those. Then he started to read his statement and started crying. That's the only sketch I finished, because I had a very short time. It was only a half-hour proceeding.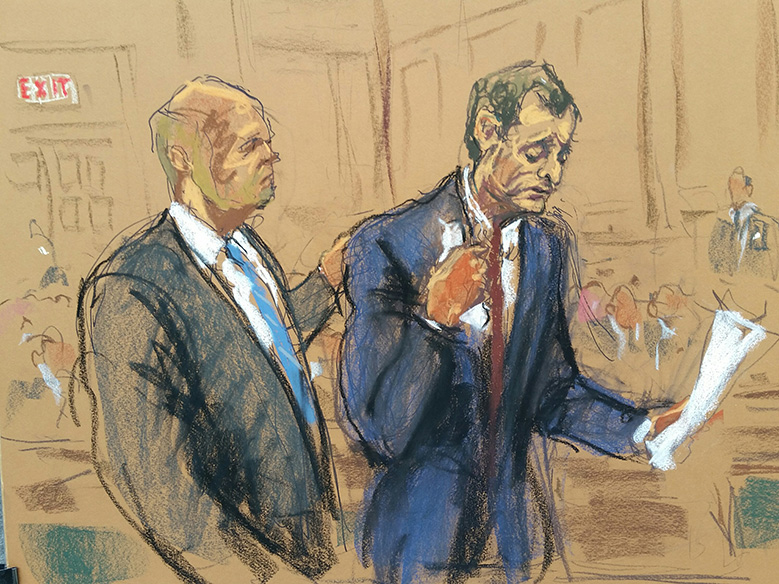 Anthony Weiner courtroom sketch, courtesy of Jane Rosenberg.
RC: What are some of the tense moments you've experienced?
Rosenberg: They usually seat me in the jury box. In the trial of the terrorists in the 1998 U.S. embassy bombings in Tanzania and Kenya, there were so many defendants that they put them in the jury box. They stuck me in a chair across from the jury box against the wall. One of the terrorists jumped over the rail out of the jury box — they said he was going for the judge — and he was tackled right in front of me. I was trying to be out of the way of the marshals running toward him. I was also worried about my pastel box. If it tips over it's such a mess. That happened to me during the Bridgegate case. I end up with a heap of gray and colorful dust and it takes a long time to clean up.
There have been some cases where I've actually cried. During the Susan Smith trial — she drove into a lake with her kids strapped in the back of the car. I had a child the same age as one of hers. Hearing testimony of how they suffered and called out, "Mommy, Mommy…" — it was too painful to sketch with the tears in my eyes. Another case was a woman who was raped in her own home a few blocks from where I lived. The guy followed her into her elevator and then forced his way into her apartment and held her hostage. He tortured and raped her, and tried to gouge out her eyes. When he left her, he tied her to the bed and set it on fire. I could relate to this woman. He tortured her so bad and she described it so emotionally — I went out in the hall and just started crying. In the Boston Marathon bomber trial, people would come in and tell their stories about losing limbs. It was horrific.
RC: How has the business changed?
Rosenberg: I don't often cover whole trials these days. Now, they send me in for opening or closing statements, the verdict, or a star witness. When I first started, there were only a few TV stations. Now, the attention span is cut, budgets are spread thin…quick headlines and soundbites are all people want. They don't spend to cover a whole trial anymore unless it's huge. Plus, there are often cameras in court. It's a dying field. There is less and less work. There's a lot of talented artists, but it's hard to be a courtroom artist — it's not like sitting in the Art Students League sketching a model. Also, technology changed the business. In the early years, there would be a photographer or a camera crew waiting outside of the courthouse to photograph my drawings. Then, with smaller budgets, they started to expect me to shoot my own, which meant I had to carry a laptop and send it in. With cell phone cameras, I can now just email a photo from my cell phone.
RC: What are your biggest challenges?
Rosenberg: One is flying with my art supplies. I can't check them because if they dropped the pastels, they'd go everywhere. I also need a razor to sharpen them at night. But my biggest challenge is getting a good seat [in the courtroom] and getting a view. If I can see, I can sketch. A lot of times I'm stuck somewhere right behind the person I need to draw and I pray they turn to talk to their lawyer so I can get a profile. Sometimes they are blocked by marshals or computer monitors. I do usually get the best seat in the house, but that doesn't mean I can see. It's very hard — the pressure is tremendous. And there are people behind you looking, so you need to have thick skin.
RC: Is it harder to draw a criminal or an innocent person?
Rosenberg: Until they are convicted, they're not necessarily criminals. Certain people have a lot more character in their faces, so they're more fun for me to draw than even a beautiful woman. It helps if they have great beards, though very few lawyers have beards.
I love sketching mafia guys, when [they look like] they're straight out of central casting. For example, in the Gotti case, a lot of the witnesses — the "made men" — had great faces.
RC: Tell us about the Cosby trial
Rosenberg: I'm in Pennsylvania for the Bill Cosby trial [Note: It starts June 5, 2017]. There will be no cameras in court. Famous people are always harder to capture. Everybody remembers what he looked like as Dr. Huxtable or whatever, but you have to really capture the way he looks now. He has aged a lot, and I have to show him as he is. I never glorify anyone and they usually don't look too good under fluorescent lights. I've done all the Cosby hearings and pre-trials. One of his lawyers bought one of my sketches. The government side does not usually buy sketches. Lawyers buy them a lot for their memoirs, but it's usually the winning side. I draw whatever is in front of me on that particular day. My only expectation or hope for this trial is that I get a good view — a good seat where I can see everything.
A&E's True Crime gets closer to the people and the stories behind the crime headlines.
(Courtroom sketches courtesy of Jane Rosenberg)